Progressives hopeful! Autumn and Fraud is in the air!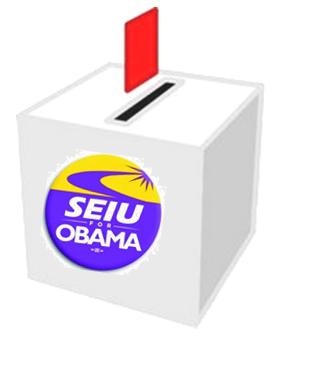 Left wing progressives are crossing their fingers, as dead people once again rise up to vote. Why is it that vote fraud overwhelmingly comes from the left? Because the end justifies the means. Also, look for the union label.
In Nevada it's underway already, with complaints from some voters that the box next to Reid's name was pre-checked! Look for people to be paid with food and cash to vote Democratic, as well as a host of false absentee ballots turned in. This is happening all over the country in close races. Can you guess who's in charge of servicing the voting machines in many states including Nevada's Clark County (Las Vegas), where three quarters of Nevadaís residents live? Yes, it's our friends at SEIU, the government worker's union, working hand-in-hand with ACORN, that has already contributed 44 Million to Democrats this year.
If you find ACORN or its affiliate, SEIU, involved in a campaign, start looking for fraud. In Colorado and Arizona, tens of thousands of "new" voter registrations, submitted by a front group for SEIU, are being investigated by prosecutors. Arizona also may have 20,000 illegal registrations.
To make matters worse, last Tuesday the 9th Circus Court of Appeals struck down Arizona's law requiring voters to prove they are citizens before registering to vote. This will tie in nicely with Obama's "Get Out The Vote Drive" in 2012.
So to all of you reading this column... VOTE! Any really close race might be "Al Frankened" and stolen from right under our noses. We need at least 3-5 point victories to secure election wins.
And be vigilant. With these court rulings, and Acorn-SEIU shenanigans, we might see Jose Calderon as a write-in candidate in 2016!
POSTSCRIPT:
It has taken two years before authorities in Minnesota brought charges against crooks who stole a US Senate seat and gave it to a comedian/pornographer. We all know Al Franken's seat was "won" by fraud.

Thirty-four more people will now be charged with voter fraud in Hennepin County in the 2008 election, County Attorney Mike Freeman announced Tuesday.



My Predictions for Tuesday:
Californians are too stupid (on the whole) to realize that they are financially doomed, so they will continue these policies that have led them into the abyss, by re-electing Barbara Boxer and elevating Jerry Moonbeam Brown to Governor. Don't get me wrong... neither Whitman or Fiorina are conservatives, so I don't mourn their possible demise.
I can't believe so many people I know resent Whitman and Fiorina for being rich, smart and successful. This has what the left has done to us. They have divided us by class, race, and in every other way they can. I have heard things like, "she's just buying the Governorship with her own money." Wouldn't it have been better to have someone elected who isn't beholden to any group, than a guy who is bought and paid for by the unions? The same unions who are partially responsible for this state going bankrupt? The fact that Californians couldn't make that distinction, shows you how far we've been dumbed down.
Nationally, my prediction is a Republican net gain of 57 seats in the House, which will send Nancy Pelosi back to San Fran-sicko, and the defeat of Dirty Harry Reid (that's if the fraud is kept to a minimum). THAT IS A MAJOR VICTORY! The Obama agenda will be blocked by the House! In the Senate, Republicans will not be able to take the majority, but should win 8 seats.
As far as California? There is no hope for California, and since ballots will probably be completely in Spanish in 10 years, we won't even be able to read about our own destruction. Know how we'll know? It won't matter to me at my age, but when you 25-40 year olds start paying 20% state tax and 50% Federal, maybe you'll take a little interest in the process. Maybe you'll be a little more reluctant to dole out welfare to illegals, have-nots, don't want-to's and never-will's, and corrupt Government and Teacher's Unions.
Of course I might be wrong - you may very well be in one of those categories in ten years.